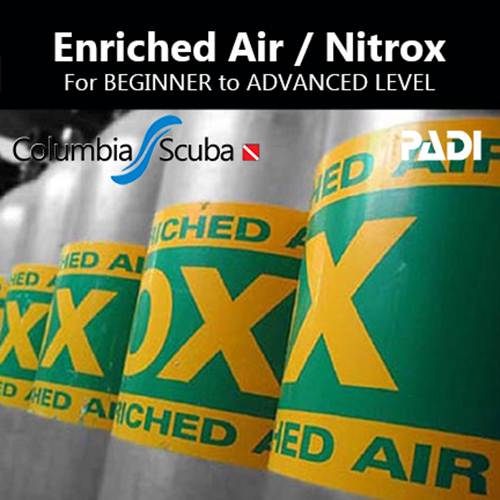 PADI
Enriched Air Diver
Stock No. EANX
IF YOU DON'T SEE A DATE FOR THIS SPECIALTY BUT WOULD LIKE TO BEGIN eLearning AND SCHEDULE YOUR DIVES, CLICK ON THE DEC. 31, 2022 INQUIRY CLASS TO BEGIN.
THE ENRICHED AIR COURSE IS SCHEDULED ON DEMAND so we'll work with you and others to schedule a date if you select the Dec. 31 inquiry course date.
The PADI Enriched Air Diver course is PADI's most popular specialty scuba course. Why? Because scuba diving with enriched air nitrox gives you more no decompression time, especially on repetitive scuba dives. If staying down longer and getting back in the water sooner sounds appealing, then don't hesitate to become an enriched air diver.
If you're a PADI (Junior) Open Water Diver who is at least 12 years old, you can enroll in the Enriched Air Diver Specialty course. Note that in some regions the minimum age is older than 12.
*Learning materials, including but not limited to: crew packs, text books, and eLearning, are not returnable/refundable. Once eLearning has been assigned, it is not possible to transfer it to another student. We will make every effort to help you succeed and finish your course. Students may move course dates from month to month(up to 12 months) without any additional charges in order to complete their certification. Course fees may be refunded as store credit to be used on equipment, trips, or courses.
Enriched Air Diver E-Learning
32% and 36% Dive Planning Tables
Instruction
Processing Fee
---
October 2023
Mon
Tue
Wed
Thu
Fri
Sat
Sun

1

2

3

4

5

6

7

8

9

10

11

12

13

14

15

16

17

18

19

20

21

22

23

24

25

26

27

28

29

30

31
---