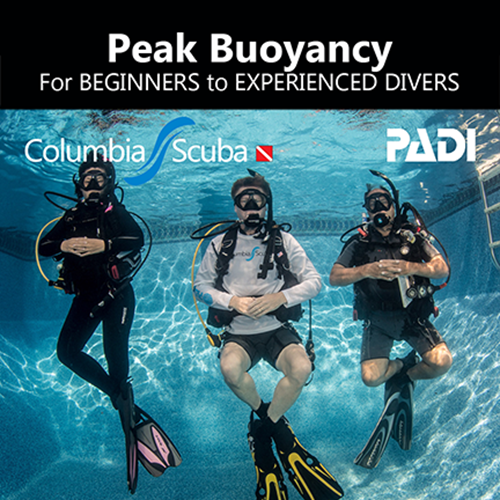 PADI
Peak Performance Buoyancy
Stock No. PPB
Excellent buoyancy control is what defines skilled scuba divers. You've seen them underwater. They glide effortlessly, use less air and ascend, descend or hover almost as if by thought. They more easily observe aquatic life without disturbing their surroundings. You can achieve this, too. The PADI Peak Performance Buoyancy Specialty course improves the buoyancy skills you learned as a new diver and elevates them to the next level.
PADI (Junior) Open Water Divers or higher, who are at least 10 years old, are eligible to take the Peak Performance Buoyancy course.
*Learning materials, including but not limited to: crew packs, text books, and eLearning, are not returnable/refundable. Once eLearning has been assigned, it is not possible to transfer it to another student. We will make every effort to help you succeed and finish your course. Students may move course dates from month to month(up to 12 months) without any additional charges in order to complete their certification. Course fees may be refunded as store credit to be used on equipment, trips, or courses.
Learning Materials
Instruction
Tanks
Weights
Processing Fee
Mask
Fins
Snorkel
*BCD
*Regulator
*Dive Computer
Surface Marker Buoy
Finger Spool
Cutting Tool/Knife
*Rental Available
*Wet Suit (3mm or 5mm)
Compass
*Rental Available
---
---